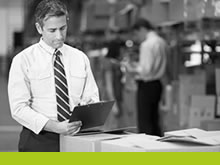 For many businesses, the decision on whether to implement supply chain audits is made simply in terms of financial risk. How much will a delay at one factory cost? How likely is it that orders will go unfulfilled? Are suppliers financially sound?

These are serious questions for any company but they don't represent the whole picture. In addition, brands must consider the reputational threat involved. What happens if the quality of goods produced falls below an expected standard? Or worse still, if a supplier is exposed for improper working practices or modern slavery?
Primark is strongly denying that
a letter, allegedly from a Chinese torture victim and found in a pair of the retailer's socks
, is genuine. This may well be the case but it highlights the damage that can easily be done to a brand's reputation through accusations of unethical manufacturing practices.

What audits fail to do
It's clear that the true value of supply chain audits is in a comprehensive review of risk, but with so many areas to assess, auditing is becoming increasingly complicated and expensive, as highlighted in a recent article on CFO.com.
The effectiveness of audits can also be questioned. Some may simply involve a questionnaire answered by first tier suppliers, while others may include unannounced site visits. Clearly, the quality of such assessments can vary significantly.
Not only this, but the success of auditing for risk management relies entirely on first tier suppliers only sourcing goods from agreed parties. A brand could conduct the most thorough checks on its wider supply chain but if a manufacturer chooses to buy from elsewhere, there is no guarantee that the same standards are being adhered to. Companies are effectively placing their reputations in the hands of others.
How Segura can help with global sourcing
Businesses clearly need greater oversight over their supply chains to ensure that the effectiveness of audits isn't compromised.
This is where Segura comes in. Our software enables brands to map their full supply network, creating a clear plan of all approved subcontractors.
Orders are placed through the system, which can highlight any anomalies in terms of quantity or type of items requested, and notify customers if orders are not placed within the authorised supply network. Fulfillment of each order can also be traced so businesses can be sure that goods are being provided by the right parties at the right times, and potential delays can be mitigated.
We have a strategic partnership with quality control service provider AsiaInspection, which makes it simple for customers to request audits for new factories through our online platform. When used in conjunction with these detailed supply chain audits, Segura enables businesses to be confident in the visibility they have over global sourcing risks.