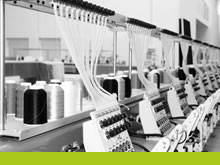 The apparel industry is beginning to move in a new direction. A recent article published by Just Style discusses the impact of the Internet, and how it is giving rise to the individual, as opposed to the mass-market. Today's consumers have new needs, ethics and expectations, and the industry as a whole needs to adapt to cater for these.

The traditional mentality of producing something for everyone is starting to look dated and out-of-touch. With an increasing demand for bespoke items, the industry needs to adjust its approach, and instead offer everything for someone.

But while consumers increasingly crave immediate results, unique products and more options in terms of what, how and where they make purchases, retailers and brands are restricted by inefficient garment supply chains. In order to make money or satisfy future customers, the structure of these supply chains perhaps requires a fundamental redesign.

Next generation supply chains
As Edwin Keh, CEO of the Hong Kong Research Institute of Textiles and Apparel (HKRITA) explains: "Today we work in an X-shaped supply chain: we optimise everything for the 40ft container and retailers expect customers to come to them. The consumer today wants a Y-shaped supply chain: take one of many SKUs and deliver them to me; I want everything to be optimised to me."
Of course there are other options available. Retailers could continue with their existing garment supply chain structures and simply look for new, low-cost producers. Alternatively they could attempt to optimise what they have through automation and buy themselves more time.
Regardless of the path chosen, it is clear that retailers will require far greater awareness and control over their supply networks. To have the ability to respond to modern consumers and rapid shifts in demand, retailers will need to have the flexibility to move supply around more freely. To do this, each individual component that makes up a product will have to be carefully considered and monitored.
The need for a disruptive approach
Of course none of this is going to be possible without the correct people, processes, partnerships and of course technology solutions underpinning it. Every element of this next generation ecosystem needs to be effective, adaptable and responsive to change. This will allow manufacturers and vendors within those supply chains to easily share information and effectively collaborate to deliver benefits to the retailer, who in turn provides the service to the consumer.
Segura's software enables just that. It provides customers with a high level of oversight, compliance monitoring and real-time order traceability, allowing full visibility of where orders are both placed and fulfilled right through the extended supply chain. Retailers and brand owners can quickly identify issues or delays, and easily review and manage the order processes for all products and components with their downstream suppliers, allowing them to develop a more flexible and financially robust garment supply chain.
Collaboration is central to achieving the best results and, as such, Segura delivers full EDI transactional capabilities. The system can be used as a standalone operation or, for maximum benefit, in harmony with existing technologies and services, such as Audit and Compliance regimes and PLM or ERP systems, to provide unrivalled garment supply chain control.
What benefits does a collaborative system bring?
In today's demand driven garment supply chain, minor disruptions can have a major impact on order fulfilment, and subsequently customer satisfaction. Having end-to-end visibility is what gives successful retailers, brand owners and supply chain leaders their competitive edge.
To put it simply, improved collaboration and greater oversight give brands more control over what is happening in their supply chains. With this control comes the ability to quickly adapt to changes, as well as to foresee and manage areas of risk, and identify potential cost-savings.
Brands can no longer operate their departments in fragmented silos through a series of unconnected systems. To generate revenues in this new and ever-changing marketplace, companies have to take responsibility for the end customer and move forward into the next generation of globally transparent, effectively risk-managed and ethically sustainable operations.
Segura not only understands these challenges; we are well placed and well versed in addressing them for our customers.